WORLD POLICY ON AIR
World Policy Journal is proud to share our weekly podcast, World Policy On Air, featuring former Newsweek On Air host David Alpern with timely insights from global affairs analyst Michael Moran of Transformative.io, risk and geostrategy consultants. Click here to subscribe on iTunes!
UPCOMING EVENTS
No upcoming events at this time.
Thursday, January 17, 2013 - 8:00am
Through the World Policy Institute's Community Partnership withWomensphere, we are delighted to invite you to the Summit; and to take advantage of the $25 scholarship discount available to all World Policy Members.
Womensphere Emerging Leaders Summit 2013
Thursday, January 17 (Main Summit Day)
Wednesday, Jan. 16 and Friday, Jan. 18 (Immersion Days)
New York, NY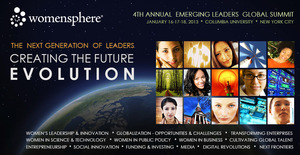 Delegates are emerging women leaders - from college/grad students to young women professionals and new managers. Mentors are women and men who are established professionals, entrepreneurs, NGO leaders, and academic leaders from all sectors and industries.

The discounted Early Registration goes on until this Friday, December 21st.

The summit gathers promising and emerging women leaders from across industries and disciplines, where you will have the opportunity to engage in inspiring conversations and collaborations with fellow participants and speakers. You can expect the following:
Over 100 distinguished speakers & Womensphere Award Honorees across disciplines and industries
Mentoring Circles - We will have assigned Mentors (professionals and successful executives, innovators, entrepreneurs, as well as Summit Speakers) joining and co-hosting each table as Mentors. --- One of our Mentors, for example, includes Jeanne Sullivan, General Partner at Starvest Partners and one of the country's leading venture capitalists.
Career and Nonprofit Fair - We will have recruiters and representatives from Fortune 500 companies, the best brands, social enterprises, and NGOs and non-profits including Teach for America and Global Health Corps
Womensphere's Online Global Network- Delegates and Mentors at this Summit will be the first to join an exclusive Online Global Network for like-minded high-achieving, high-impact emerging women leaders like you!
We are featuring women change makers, influencers, industry leaders, disruptors and CEOs, so get ready!
About the Speakers
Over 100 amazing speakers, including:
Dr. Shirley Tilghman - President, Princeton University (Womensphere Global Award)
Marie Wilson - Founder and President Emerita, The White House Project and Ms. Foundation (Womensphere Global Award)
Binta Niambi Brown - Partner, Kirkland Ellis; Fortune Magazine's 40 Under 40 Next Generation Leaders
Charmaine Taylor - Director, Hotel Operations, W Hotel-Union Square, Starwood Hotels & Resorts
Emily Graham - Senior Manager, Worldwide Innovation, Pfizer
Dr. Heather Berlin - Cognitive Neuroscientist; Faculty, Mt. Sinai Medical Center; TV Host of Discovery Network's new TV Show, Superhuman Showdown
Jason Oshiokpekhai - Manager, SME Business Development, American Airlines
Jovian Irwin - Managing Director, Talent & Recruitment, Teach for America
Marnie Kain Cacossa - Chief Marketing Officer, Saatchi & Saatchi
Michele Wucker - President, World Policy Institute; World Economic Forum Young Global Leader
Patricia David - Global Chief Diversity Officer, JPMorgan Chase
Victoria Budson - Executive Director, Women and Public Policy, Harvard Kennedy School of Government
When and Where:
Thursday, January 17,
Main Summit Day
Columbia University
New York, NY

Wednesday, January 16 and Friday, January 18th,
Immersion Days
Various Corporate Locations,
New York, NY

RSVP:
View ticket information and register here. WPI members receive a $25 scholarship discount.

There are a limited number of discounted Early Registration places remaining (~30), if you are planning to join, register sooner than later.
About the Sponsors:
The World Policy Institute is a non-partisan center for global thought leadership focused on emerging challenges, thinkers, and solutions. World Policy fellows, events, policy development and media outreach, alongside our flagship World Policy Journal, provide a forum for solution-directed policy analysis and debate in support of a sustainable market economy, effective governance, and broadened security strategies.
Womensphere is a global community of leaders, networks, organizations, and companies, aligned by a shared mission of empowering and connecting the world's women to unleash potential, create opportunities, and inspire impact. Womensphere Summits and Media center around the themes of leadership, innovation, ventures, economics, sustainability, and women creating impact in all fields of endeavor. Womensphere convenes leaders to share and collaborate on innovations and solutions to some of the most important global and local issues of our time.

|
Tags:
Evolution
,
women
,
Womensphere
SPONSORED
When the Senate Worked for Us:
New book offers untold stories of how activist staffers countered corporate lobbies in the U.S.
---
MA in International Policy and Development
Middlebury Institute (Monterey, CA): Put theory into practice through client-based coursework. Apply by Feb. 1.
---
Millennium Project's State of the Future 19.0: Collective Intelligence on the Future of the World